Jennie Hahn & the Maine Dept of Agriculture, Conservation, & Forestry
openwaters.org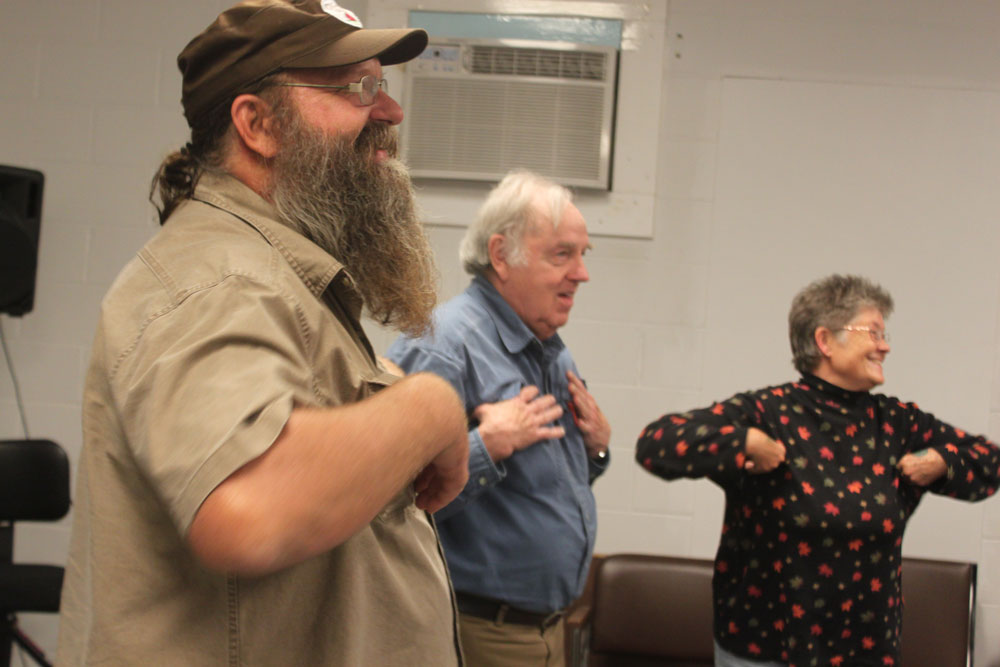 Project
Artist Jennie Hahn partnered with Stephanie Gilbert, Farm Viability and Farmland Protection Specialist at the Maine Department of Agriculture, Conservation, and Forestry. Their year-long collaboration explored how artistic practice could open up ways of thinking about sometimes polarizing issues around farming, creating space for complex dialogue to emerge. The challenge was to make the very technical policies governing farmland protection and conservation easements accessible, and to facilitate conversations between stakeholders such as long-time farmers, new immigrant farmers, policymakers, community members, and funders.
Hahn's aim was to use storytelling and land-based creative approaches to support agency goals, which were to:
Humanize enforcement of conservation easements
Develop techniques to remind people why it's important that farmland is protected
Create a culture of farm stewardship in the community
Create a horizontal experience for stakeholders
Artist

Liaison

Stephanie Gilbert, Maine Department of Agriculture, Conservation, and Forestry

Location

Lisbon, Turner, and Winslow, ME

Start/end dates

2014
Among the questions that drove the project were: "How do we talk about farmland protection and what is the language we use? What new tools can we envision for models of farmland protection?" Hahn and Gilbert devised three "pods" for events in three different towns. The first pod explored the pros and cons of conservation easements and imagined how the easement process could be improved. The second pod explored a new policy to protect farmland, at a meeting of agricultural commissioners. The third pod gathered together a group of eight stakeholders to imagine what farmland protection policy could look like in the future.
At these events, Hahn and Gilbert co-facilitated sessions using experiential techniques, icebreakers and reflection, to get people to think more broadly about the issues at hand. These included:
A walking tour of a family farm which, under the terms of a conservation easement, leases land to immigrant farmers. Hahn and Gilbert understood that being on the land itself would create a powerful setting for convening stakeholders.
Cutting phrases out of a printed copy of the easement policy, reading them out loud, discussing and demystifying each one.
An exercise in which people brought objects from home and "transferred" them to others in the group, each explaining why the transfer was meaningful, and their visions for the use of the object.
Creating individual movements based on the question "what does farmland mean to you," and performing them sequentially as a short dance. Gilbert, who had been a dancer, saw how these embodied techniques could shift the tone of policy meetings.
Telling stories to each other about change—on the farm or in participants' thinking about farming.
Role-playing exercises around specific policy questions
Writing letters to a person farming the land in the future.
The result of these exercises was a high-level discourse among stakeholders who may have divergent concerns but don't typically get to hear each other's points of view.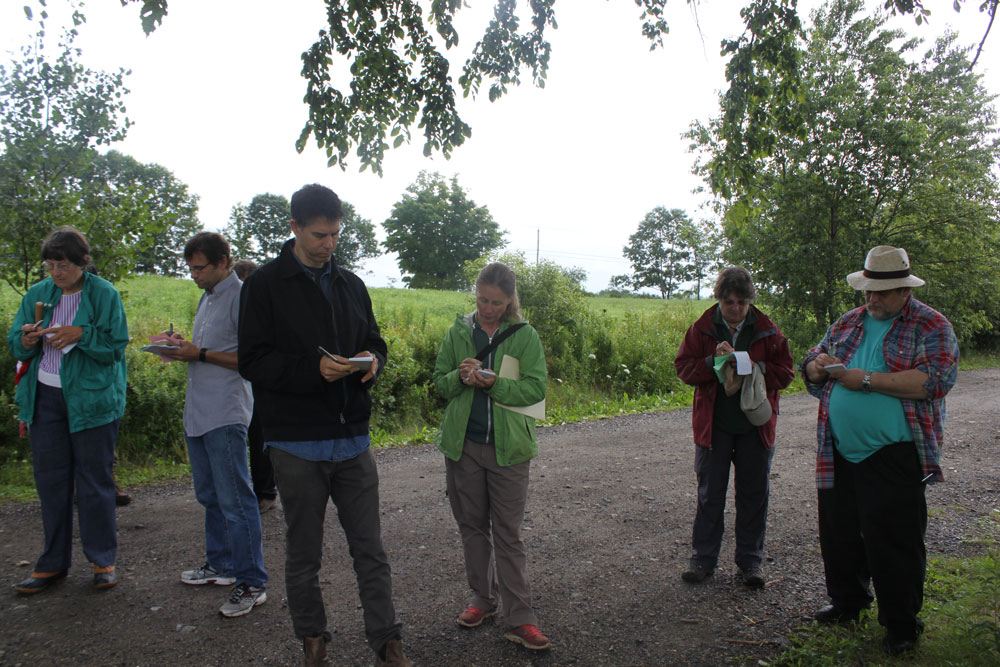 Instigator
Stephanie Gilbert assists farmers with the challenge of protecting working farmland and transitioning it from one generation to the next. She regularly collaborates with farm families, land trusts, educational and community development organizations, and state and federal agencies. Gilbert, who was trained as a dancer, saw the potential for art as a strategy to make this work less intimidating and more relatable. Gilbert and Hahn had already built a relationship through collaboration on a previous project, and were given the opportunity to partner through the Catalyst Initiative of the Center for Performance and Civic Practice (CPCP).
Partnership
The Catalyst Initiative supports place-based teams consisting of an artist and a civic (community, nonprofit, or municipal) partner to create an arts-based project in response to an expressed need from the civic partner. These projects are meant to be year-long, small-scale initiatives that build capacity of both partners, and add value to short-term civic outcomes. The CPCP provides coaching and peer learning opportunities with other M/A teams.
Gilbert saw engagement with an artist as professional development, so that she could continue to integrate creative strategies into her work even after the project was completed. Jennie Hahn writes,
"This project gave Stephanie a bit of space and encouragement to think outside of her usual approaches and the opportunity to practice new forms of facilitation. She was able to more quickly build trust with her constituents and to move farmland protection processes toward a satisfying conclusion."
Hahn also talks about her own experience,
"[The partnership] became deeply trusting, equitable, and mutually co-created. We were able to leave our initial conceptions of our specific roles in the project behind and to collaboratively define what we were doing together...This has fundamentally changed the way that I approach all partnership in my current work…]"
Artist's Approach
Hahn and Gilbert experimented together to integrate storytelling, theater techniques, and other creative strategies into the agency's processes such as stakeholder meetings. They applied these practices to highly technical policy conversations, making it "easy and comfortable for participants to tell their true stories about land and farming to one another…and to find courage to develop new policies."
Funding
Sole funding for the project came from the Center for Performance and Civic Practice's Catalyst Initiative, which itself is funded by the Andrew W. Mellon Foundation.
Impact and Outcomes
A major impact was that community forums were enlivened and gained depth through creative techniques. These often centered on personal stories, and were effective in getting the dialogue to new and different places, and introduced the human implications of issues that could otherwise seem abstract. The creative approaches constructively challenged the norms of the agency's processes.
"[Participants]...stopped trying to be experts. They felt invited to...crack their shell…[P]eople all have so many life experiences …whatever part of their story is in their mind, they feel a little more allowed to be more whole, rather than just wearing the hat of authority that lets them come to this meeting. I think they get to use more of themselves to think with, to act with, to do decision-making." Stephanie Gilbert
Another outcome, for Gilbert, is that she became better equipped to deploy creative strategies in her work. According to Hahn, Gilbert was not only emboldened to initiate creative techniques in community meetings, but "raised the bar creatively." Anticipating it could be hard to go it alone without Hahn, Gilbert found a colleague willing to facilitate with her to "tag team and have some fun [with it]."
Success Factors
The focus on small-scale interactions and art projects resulted in a more realistic and manageable scale for the work. This focus helped to center the partnership on building effective and replicable capacities for the agency's work in the field. This could create conditions for improved decision making, coalition building, and policy change. The small-scale approach was suited to the artist's interests as well, aligning with Hahn's values, experience, and working methods.
The civic partner used its social capital on behalf of the artist, supporting the artist's expertise and contributions, opening doors for her, and building bridges to other stakeholders within their agencies and sectors.
CPCP's coaching was key in helping the partnership identify realistic outcomes as the partnership evolved. For Gilbert, the coaching "helped things stay in kind of a balance between the artist and the community partner...whenever Jennie needed help, she got the professional level of support that I could not provide…[in] civic engagement, community practice, to really think through strategy and activities and ask those questions in her own research." CPCP Director Michael Rohd and staff also made site-visits, convened a cohort with other partnerships, and supported project documentation.
Lessons Learned
An artist can reframe and enliven complex policy dialogue to make it more accessible to stakeholders and the general public.
Small-scale creative interventions are replicable for the agency.
Small-scale creative interventions allowed the artist to work across a larger geography in a manageable way.
Agency staff can learn and build confidence in implementing simple and effective creative strategies to sustain the work beyond an artist's tenure.